Officials with a leadership training center that has a global reach are proposing a $100 million expansion that will benefit not only the town of Westlake but also Tarrant County. Deloitte LLP provides audit, tax consulting and financial advisory services and employs more than 350,000 people worldwide. Its Westlake campus, known as Deloitte University: The Leadership Center, launched in 2011. It is located south of Hwy. 114 off Westlake Parkway.

The campus, which includes an 800-room corporate hotel, hosts training sessions not only for Deloitte's employees but also business leaders from a variety of industries. During a little more than a decade of operations, Deloitte has hosted over half a million people in Westlake, according to the company. Its expansion plans would allow the campus to serve even more people.
"We are busting at the seams, and expanding is needed for us in order to continue to drive our growth, our impact on the community and our impact on the clients," Deloitte University Managing Director Heidi Soltis-Berner told Tarrant County commissioners at a meeting in June.

She said Deloitte University hosts between 65,000-70,000 people each year. Since 2013, it has welcomed 75% of the Fortune 500 companies and 96% of the Fortune 100 companies at its Westlake campus, she said.
"We are here to develop the world's best leaders," she said. "The success of Deloitte University has surpassed what we even expected."

Deloitte Senior Manager John Casey told commissioners in June that the company looked at multiple locations before deciding to invest further in Tarrant County.
"Deloitte University is the heartbeat of our organization," he said.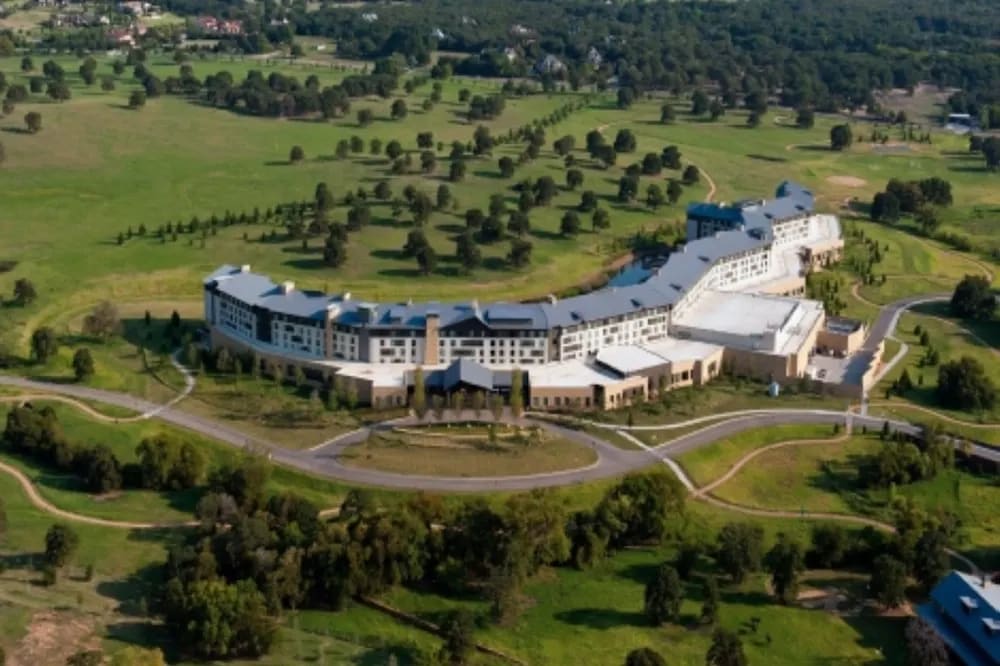 Last year, the company purchased about 118.5 acres adjacent to its Westlake campus, bringing the total acreage to about 225 acres, according to documents. Construction is set to start in 2023 and be completed by 2026, documents show. Deloitte officials are still working on a master plan for the expansion, but the initial proposal calls for eight new structures as part of a $100 million project, officials said. Another Deloitte Senior Manager Stephen Seidel said the expansion would include hotel rooms, classrooms, ballrooms, food and beverage outlets, entertainment venues, trails, streets, sports fields and sidewalks.
"It's everything," he said.
When Deloitte University was first built, it received financial incentives from the town of Westlake and Tarrant County. Westlake and the county both offered property tax abatements. Westlake also offered reductions on sales tax receipts and hotel occupancy taxes. Maegan South, Tarrant County's economic development manager, said the county's 10-year tax abatement for the initial Deloitte campus expires this year. That puts the property's full appraised value of more than $131 million on the tax rolls, she said. Based on the county's tax rate of $0.229 per $100 valuation, the company's annual tax bill to Tarrant County would be nearly $302,000. The company is seeking a new tax abatement from the county based on its latest proposal.
Westlake Town Council approved a series of incentives in March 2021. The agreement requires the addition of at least 50,000 square feet and project costs of more than $70 million. In return, Deloitte would receive a 10-year tax abatement on new construction as well as a break from the town on sales taxes and hotel occupancy taxes in connection with facilities built after January 2021. Deloitte would also receive a 50% discount on permit fees from the town. Tarrant County commissioners will consider the company's request after a July 26 public hearing. Deloitte is requesting a 75% property tax abatement for 10 years—the same incentive it received when it first built its Westlake campus. In June county staff proposed a base 55% tax abatement for 10 years. Deloitte would be eligible for up to a 75% tax abatement if it meets certain criteria, including adding more jobs and spending more through a program that benefits small, minority- and women-owned companies.

As part of its expansion, Deloitte has committed to achieve net-zero emissions by 2030, Seidel said. The Westlake acreage includes Blackland Prairie and is part of the Cross Timbers ecological region, Seidel said. Expansion plans are being designed to protect much of that native area and include planting more than 2,000 trees, Seidel said.
"It's just a really beautiful piece of property, and we want to preserve it," he said.
Deloitte University Stats:
The current campus includes an 800-room corporate hotel, three dining venues, a ballroom, recreational facilities, a spa/fitness center and multiple conference spaces.
The university hosts more than 4,500 recruits and interns, and between 65,000-70,000 trainees each year.
Since launching in 2011, Deloitte has hosted more than 500,000 guests and delivered more than 6 million hours of learning.
Source: Valerie Wigglesworth with DFW Community Impact Newspaper